I only became aware of Dukes Hotel recently from following The East India Company Gin page on Instagram, after seeing they were doing an afternoon tea with mini Mar-tea-ni's at the hotel.
I was in the process of pairing up a 5 course Indian food tasting menu with gin's myself as part of Cardiff Gin Club for The Purple Poppadom Spirit menu they've recently launched, so I was intrigued to see what they were doing with the menu.
It was only after this that I did a bit more reading about Dukes Hotel, that I learned about the history of the historic building that had played host to many famous faces throughout it's 110 years of being. These included Winston Churchill, whose blue plaque I also happened to notice next door to Dukes, where he was born and lived for his first few years on this earth. The other notable figure to favour the little gem of a bar nestled in a quiet side street adjacent to St James Park and just around the corner from the Ritz Hotel was the original bond author Ian Fleming.
You see, Fleming was a fan of Dukes and it's now famous Dukes Bar for it's specialty, which happened to be the classic Martini cocktail. Can you see the connection? Yes, Dukes is noted as being the main influence behind James Bonds' insatiable appetite for the gin laced cocktail.
Well I love a good Martini and where better to try them than the venue that gave way to the most famous Martini fan the world has ever seen. It so happened that the most spectacular festival to hit the shores of Britain was due to take place on the weekend of 1st September, "Meatopia" at Tobacco Dock. A three day celebration of the ultimate summer get together, The BBQ. With 20 of the best pit masters and meat smoking magicians on the planet driven, flown and shipped under one sun drenched canal side location in London's historic docklands each day to show people how to really appreciate our four legged farm friends.
I thought why not kill two birds with one stone as I'd wanted to attend the festival for about three years now so I booked two tickets for the festival followed by a luxurious stay at the London hotel, which is just a short stroll from Queen Liz herself at Buckingham Palace. Whilst I was at it I also thought I'd throw in a booking for lunch the following day at the Michelin starred Indian restaurant Gymkhana in Mayfair, just because.
The Hotel
The hotel is not much more than a mile from London Victoria, so it's quite a nice walk up the mall especially during the change of the guards if you arrive around that time. Sadly we were pushed for time with the thought of smoked, caramelised 70 day salt aged beef flying off the bbq and running out by the time we go to Meatopia so we grabbed a taxi to the door, which cost us around £8.
Turning down the street just after The Ritz and taking a small opening in the road to the left, you could walk past and not even realise this little jewel of a hotel existed. You soon know it's there though with it's own little courtyard, shielded by buildings on either side with the British flag draping down outside the door and beautifully constructed and preserved Victorian Facade to welcome you into the quintessentially British luxury hotel.
Checking isn't usually until around 3ish at most hotels so instead of lugging our overnight bags around London, we thought we would see if they would keep them until check-in as it was only 11.55am. Luckily for us the room was free and they let us check in there an then after reception gave us a guided tour of the facilities and our room.
Hotel Facilities included:
Steam room and fitness suite (unfortunately we didn't have time to use these)
GBR restaurant and bar open from 7am for breakfast till late evening for dinner.
Meeting suites
Drawing room used for afternoon teas
Cognac and cigar terrace (Open 8pm)
Outside seating at the front of hotel for smokers or catching up on emails
The Famous Dukes Bar serving the best Martini's in London
Onto our rooms. We only ordered the standard room as the price for some of the more luxurious rooms started around £500+ per night.
The standard rooms weren't the largest I've stayed in but for the central location in Mayfair, it had everything we needed and more. I've stayed in a lot smaller rooms in Cardiff too.
The specifics
The bed was a decent size and so comfortable, I had one of the best nights sleep in ages
Robe and slippers in the roomDesk side mobile phone allowing free calls to anywhere in the world that can be taken around the building and outside to receive internet connection
Fridge with 4 bottles of water. It wasn't stocked with a minibar as we were told they are in the processes of changing the contents and menu
TV with internet
Security safe
Large bathroom with luxury toiletries
Combined bath and the most powerful shower I've ever stood in
After checking in and offloading our bags to head to Tobacco Dock we took the advice of reception to book a table at Dukes Bar as we were told it gets really busy on weekends and they like to offer preference to guests to the hotel. We booked ourselves in for 9pm to give ourselves time to get back from the festival and freshen up.
Getting Around
The hotel reception were very friendly and offered to make arrangements for taxis if you need one but as we were heading a few miles away it worked out cheaper to get the underground. The closes underground station to Dukes Hotel is Green Park on the Jubilee, Victoria and Piccadilly line so you can pretty much get to anywhere you need without too many changes.
As the hotel is quite central we decided to head out on foot the morning of our stay after leaving our bags with the hotel. It was less than 10 minutes to Gymkhana in Mayfair, where we went for a delicious 6 course tasting menu for lunch.
It's also less than 10 minutes walk to the Ritz if you fancy something a bit more extravagant for lunch or you can do what we did and picked up a load of nibbles at Fortnum and Masons for the journey back.
Food and Drinks
Breakfast
As we were going to a food festival and had already booked lunch the following day for 12 o clock we skipped breakfast as it wasn't in with the room. You can add it to your booking for £24 each for a full English, pastries, tea and juice or there are a number of smaller options from £6 for something lighter, which are all served in the basement GBR restaurant.
Afternoon Tea
We were hoping to grab a cup of tea sourced from my favourite tea importers The East India Company in the Drawing Room but sadly they had stopped serving afternoon tea and there wasn't anyone taking orders when we popped in for a look.
The room was beautifully decorated though and would be a lovely spot to sample the afternoon tea that also has the option to include mini Mar-tea-ni's using The East India Company Gin, which is how i'd found out about the hotel in the first place.
The receptionist also informed us during our tour of the hotel that the late Lady Dianna was a regular at the hotel and would come in for tea in the Drawing Room. This is the reason they only have white flowers in the room and throughout the hotel as a tribute as they were her favourite.
We opted to head downstairs to the GBR restaurant for tea instead as they serve a selection of The East India Company Tea there all day too. I opted for a smokey GBR blend, which was a lovely change to my usual English Breakfast. The cost of two pots of tea was around £12 with the service charge of 12.5% automatically added to all orders, wherever you are in London.
Dinner
Even though we didn't eat at the GBR restaurant we did take a peek at the menu whilst having a pot of tea before we left.
There were only two dinning whilst we were there and the steaks brought out to them looked amazing. The menu featured a grazing menu with small and large portion of each. I was half tempted to have a burrata to nibble on with my tea.
Dukes Bar
The dress code read smart casual and no sports footwear for Dukes Bar so I thought i'd put something half decent on for a change with some loafers, shirts and sports jacket.
The bar is very quaint and divided into two small areas by a dividing wall and the wooden paneled bar to the left hand side or the two. Dimly lit with a selection of two and four seat tables to choose. We were seated with two other tables but one left shortly after so we took theirs as it was under a bit more light.
The menu features a good selection of classic cocktails priced around £19 and the famous martini's around £21.50.
Spirits came in double measures and ranged from £9.50 for Beefeater Gin up to around £15 for Kyoto Ki no bi Japanese Gin. I paid £8.50 for a single shot of Ki no bi with no mixer in Bootleggers in Cardiff not long back, so it wasn't bad considering.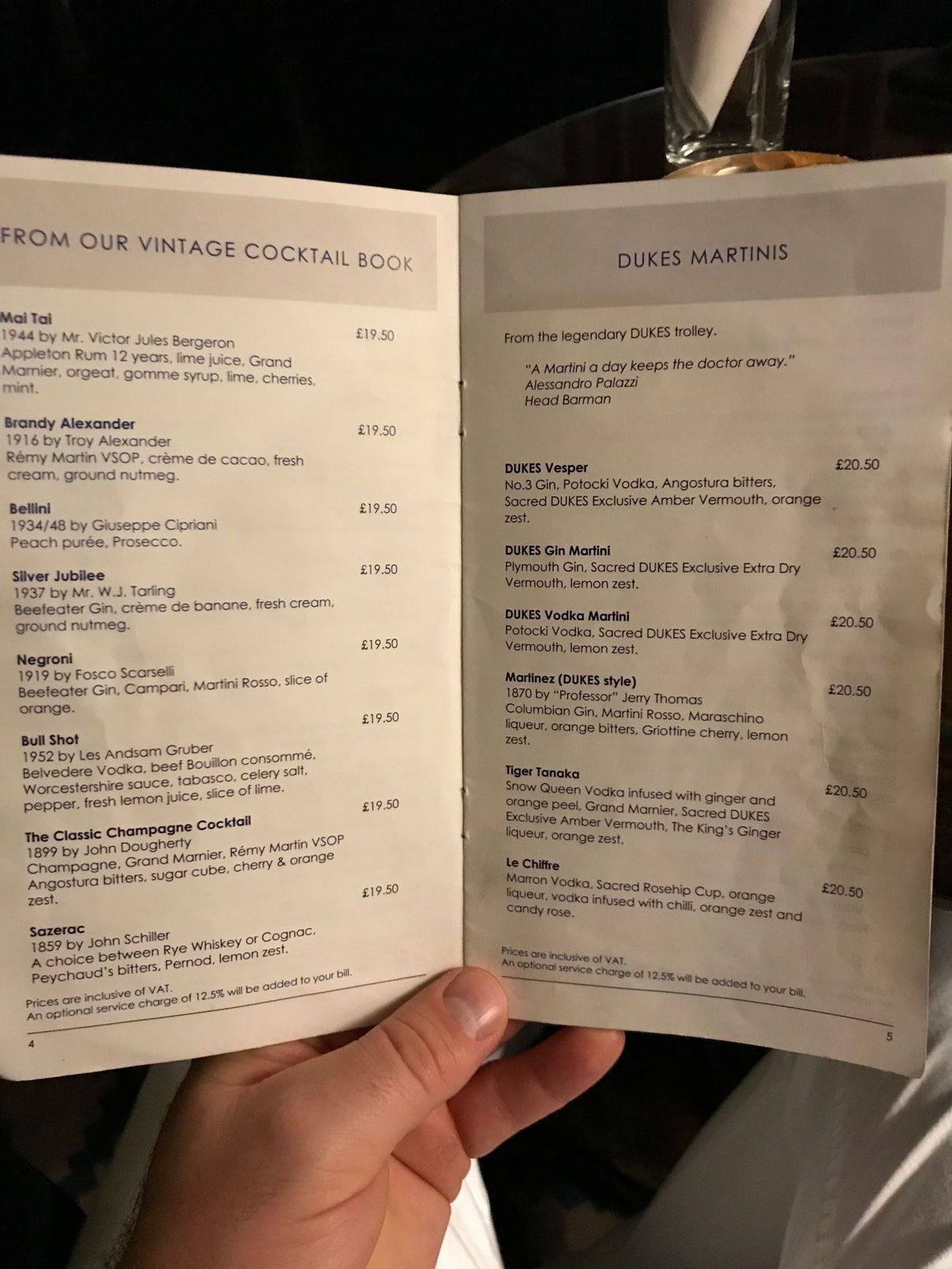 There were whiskies from some of the best distilling countries from a selection of Scotland from highlands to lowlands, Ireland, the US and Japan. What caught my eye was the now discontinued suntory Hibiki 17 year Japanese whisky. I've been hunting down a bottle for a while now as the price has spiked to over £900 a bottle online as the Japanese Whisky drought continues and has meant many aged expressions are no more.
The price on the menu didn't reflect the shortage though as it was £27 for 50ml. Rude not to really.
Martini's
There was none of the candyfloss, glitter or sickly sweet pre-mixed cordial bullshit going on with these bad boys. Pure alcohol lengthened with a splash of more alcohol, just as it should be.
I watched in awe as another guest asked for a dry Martini, to which the bartender shook a couple of dashes of homemade vermouth and i mean droplets from a bitters decanter and proceeded to top it up with the frozen gin of choice.
The art of pouring the martini's is like a ritual in itself here at Dukes with the orders taken by the bar tender, who then assembles the components of the crowning item on the menu, which are then wheeled over to the guests table and faultlessly constructed at the table.
As mentioned previously this is were bond got his love for the Martini here from his famous author Ian Fleming who was a regular at Dukes Bar. The vesper was also created here, which was Bond's favourite martini with a mix of English Gin and Polish Vodka, Shaken not stirred of course.
Surprise, surprise I went all Japanese for my first drink with the Kissy Suzuki Martini featuring Ki no bi gin, Chase vodka, Clementi China liqueur and Griottine Cherry. The bottles came straight from the freezer and glistened with a sheen of ice on the trolley so no need to shake or stir with ice to cool it or for any unnecessary dilution. This was was the strongest martini to ever touch my lips, it was actual rocket fuel but it tasted divine
I'd heard that head bartender Alessandro Palazzi served a maximum of two Martini's to guests and now I can see why. Although £20.50 they don't sound cheap, but when you factor in your probably getting close to 4 measures of alcohol per glass, that's good going even at Cardiff prices for gin. It was all about the experience though as the bar has so much history and famous fans over the years.
The other half went for Martinez with Dictador Colombian Gin, Martini Ross, Maraschino liqueur, orange bitters, Griottine cherry and lemon twist. Also very potent, these were sippers for sure but sat nibbling on Japanese crackers and salty nuts taking in the ambiance I couldn't think of anywhere better i'd want to spend a Sunday evening.
The Verdict
We both loved our stay at Dukes Hotel. The central location, the friendliness of the staff who couldn't do enough and the hotel itself looked amazing from outside to inside with loads of character and history.
I loved the little stories about some of the past guests and you really felt like you were sitting in a piece of history sat sipping a Martini in the same bar former prime ministers, princesses, highly acclaimed authors and movie stars had done for over 100 years.
The hotel is worth the visit even if it's just for a table at Dukes bar for a Martini and they really are worthy of the reverence.
It's not going to be the cheapest hotel you can get in London but I'd say it's my favourite so far and would go back in a heartbeat.
For the best deals on a stay at Dukes Hotel in London search on Trivago
https://tees-n-cheese.co.uk/wp-content/uploads/2018/09/IMG_8005.jpg
1080
1080
nicky batchelor
http://tees-n-cheese.co.uk/wp-content/uploads/2020/09/20200903_202654_0000.png
nicky batchelor
2018-09-15 14:09:17
2020-09-03 23:23:22
Dukes Hotel Review – Mayfair, London